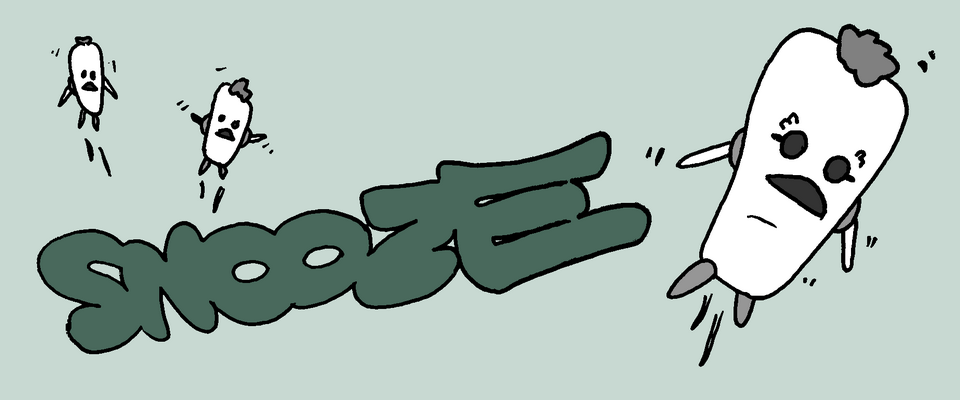 Snooze
SNOOZE is a platformer game
built to run on an actual Game Boy!

You can download the ROM
and play it in an emulator,
or play it on the real machine
if you own a flash-cartridge.
(BGB Game Boy emulator
recommended for Windows.)
You can also play the html version
in your browser on PC or mobile.

Controls for html5 version:
LEFT = A or left
RIGHT = D or right
RUN = Z/Y, J or ctrl
JUMP = X, K or alt

| | |
| --- | --- |
| Status | Released |
| Platforms | HTML5 |
| Release date | Feb 26, 2022 |
| Rating | |
| Author | Tronimal |
| Genre | Platformer |
| Made with | GB Studio, Pyxel Edit |
| Tags | 2D, 8-Bit, chiptune, Game Boy, Game Boy ROM, Homebrew, Non violent, Pixel Art, Retro |
| Code license | MIT License |
| Asset license | Creative Commons Attribution v4.0 International |
| Average session | A few minutes |
| Languages | English |
| Inputs | Keyboard, Gamepad (any) |
| Accessibility | Color-blind friendly |
| Links | Twitter, Twitch, Bandcamp |
Download
Click download now to get access to the following files:
Comments
Log in with itch.io to leave a comment.
What is a good emulator to play the game with?
If you are using Windows "BGB" emulator is the absolute best!
If you are on Mac or Unix "Sameboy" is the way to go!

I really enjoyed the game, its super cute and the music is lovely, I also liked being able to run and jump on the letters during the credits. Only problem I had was figuring out how to run, so I think at least a line of text hinting that its to possible to run woulda helped me out, otherwise great job!!
Thanks a lot.

I'm really still surprised that a lot of people don't try running from the very beginning in a Game Boy platformer.
Will find a solution if I ever upgrade the game.


I like it. The gravity could be a bit more forgiving though. Some of the jumps are sort of difficult, and seem to be very precise. A timer of some sorts would be nice. It should tell you how much you have left till you wake. You should tell the player how to run. I found myself thinking "this jump is impossible!!!" at first. Some coins to collect might be a nice to have also. Or, some way to increase time. I like being able to jump on the names on the credits. Reminds me of some of the newer Mario games. Some indication of where the teleportation things (???) lead would be helpful.


Great Job!
Thank you! :)
Yeah, I thought about making an easy mode with slightly altered physics, but as this game was made for a Game Jam within 7 days, I didn't have enough time to do that.
Maybe I'll make an update after the Jam is over.

As the timer is stopped at some points of the game, while dialog appears for example, this would be kind of tricky. I came up with a solution, but I had to change a lot of the timer logic for that. Sadly again, not enough spare time in 7 days.

I heard about the running thing a few times now, and I'm am really surprised by this. I thought this is so common in Game Boy games, that everybody would get that from the beginning. Seems I was wrong.

Collectables to increase time would be really cool. If I'd rewrite the timer logic the way I planned for the indicator, this would work easily as well. Thanks for the idea, I'll absolutely keep that in mind. If not for this game - definitely for the next one!

The portals have symbols inside that show you where you end up. But there are only 3 of 5 visible easily. That was a small issue I had with level design, mainly caused by the small screen size.

Thanks for all the input! :)

I figured the 7 day restriction was a big thing. But i also figured, if you want to go forward with it more, it'd be good to have more input. If you go forward and make some more progress reach out on twitter, i'll give it another test run.
Cool, thanks. :)
I'm not sure yet, if I will jump back to continue dev for this game quickly, cause it would delay my main project (another Game Boy game) I'm working on massively.
We will see, I have to decide spontaneously! :)

love it - very cute - the "run + jump" is a bit chanky but workes with some practis. Great work!
Thank you so much!
I mostly played it via emulator.
It seems a bit harder via web/html, especially when running on a smartphone.

pretty nice art but too much gravity
Amazing game absolutely loved it, however I do think a little restart button would be nice
Thanks a lot for your kind words!
It has a restart function in the credits, to restart the whole game, but not for each level itself.
Would have been a good addition, I agree!

You can also restart the game while pressing START, SELECT, A and B at the same time.
(Or SPACE, ENTER, JUMP and RUN for the html/web version.)